Hello, it is impossible for me to install the BeamMP luncher despite many manipulations. Here is the error message :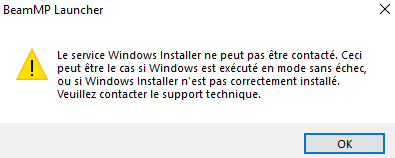 Translation of the error : The Windows Installer service cannot be contacted. This may be the case if Windows is running in Safe Mode, or if Windows Installer is not properly installed. Please contact technical support.
I contacted your support on discord but nobody could help me. They told me to contact the support directly from the forum.
Semone can help me please?
Informations : Windows 10, RTX 2060, 16GB RAM
What I tried : Run as administrator, disable antivirus, extracting the installer, i've follow this : "The Windows Installer Service Could Not Be Accessed" error when you try to install a program in Windows 7 or Windows Vista and this "Windows Installer Service could not be accessed" error message when installing application but none of them work.
Thanks in advance,
Kinds Regards,
Enzo.