THERE'S A SIMPLE TROUBLESHOOT INFO BELOW THE TUTORIAL! SCROLL DOWN!
Hello, you can use this little guide to install the MP mod. First of all download the launcher from our website.




Launchers redistributed outside of beammp.com or beamng-mp.com may be tampered with, DO NOT download them for your computer safety.
Your browser may block the download thinking it's malicious software: it's not a malicious software, you can use Internet Explorer as an alternative browser to download it.

While you're here you can freely
join our Discord server
if you need to ask some questions, check the mod development status or just have fun chatting with other members of the community.
Double click
BeamMP Installer.exe
to start the install procedure. Your antivirus may flag this as malicious software:
it's not a malicious software, install it anyway.
Follow the on-screen steps to install it and make sure to allow it through your Windows Firewall otherwise you won't be able to connect. If it's the first time you're installing this, choose "
Typical Installation
".
You can choose an install folder if you want to in the "Custom Installation".
The installer should automatically create a shortcut for you. Double click it and this window will appear:
If there's an update for the mod the launcher will download it automatically.
Don't close the launcher or you won't be able to authenticate!
When the launcher completes loading, it will open the usual BeamNG loader, click "Launch game":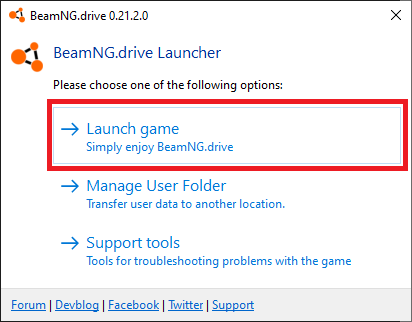 The loaded game is the normal BeamNG but with multiplayer integrated into it; click "PLAY" and then "MULTIPLAYER":

Once you're there, you're prompted with a login interface:
Register an account on our forums
and use these credentials to log in if you haven't done so, otherwise you can play as a guest with an assigned guest username.
If you can't type in the boxes, reload the game.
Once you've logged in you can choose a server and start playing! "Official servers" are highlighted with a different colour, the others are run by users. When you select a server a small menu will appear showing the total size and the mods the server uses. Once you've found the server you like simply click "CONNECT";
if you've joined a modded server, it will download all the mods needed for you.
When you're in game you'll have the three MP UI apps needed to play:
If they aren't there please check this gif:
Then reload the game.
You may have to reload LUA with CTRL+L and relaunch the game if, when you click on the player list nothing happens.
You're now ready to enjoy the mod, be sure you're in free cam (
SHIFT+C
), select a car and click "
Spawn New
". If you want to use another car, click "
Remove current
" before spawning a new vehicle.
If you want to modify a car through the vehicles options (Ctrl+W) you can without causing freeze issues to other players; simply change the things you want and when you're done click "SYNC".
Only click "SYNC" when you're done
as that will freeze the other players as usual.
If you check in the game options, you'll find a new tab called "MULTIPLAYER":
Here you can choose the options you prefer, don't change the last two options if you don't know what you're doing.
Some servers support mods (both maps and vehicles): when you join a modded server it will automatically download the mods for you. The mods will be cached in a folder called "Resources"
that can be found where you've installed BeamMP
.

In case you have a slow/data capped internet connection you can copy the mods from your normal BeamNG mods folder and paste them in the "Resources" folder; in that case if you join a server that uses that mod it won't download it again. Be sure you have the latest version of the mod otherwise BeamMP will download the latest one.
FAQs:
More info here: https://forum.beammp.com/t/faqs-common-problems-and-fixes-read-before-asking-for-help/
IMPORTANT NOTES AND SIMPLE TROUBLESHOOTING INFORMATION
Names:
This system picks your forum username.
Users with offensive names can be reported to the BeamMP staff and receive a warning/ban.
Chat system:
All the servers have a working chat system. If you can't see the message you've just sent send it again (don't spam it).
Connection problems:
You may have to run the launcher as an administrator: right click the launcher icon > Run as administrator
Steam Family Share may cause the launcher fail to recognise you own the game, disable it and try again.
Nothing happens when clicking "MULTIPLAYER" or there are no servers shown:
If nothing happens when clicking "MULTIPLAYER" or there are no servers shown, press F5 or CTRL+L. If needed restart the game.
Clean reinstall/Uninstall the mod:
To clean reinstall it: launch the .exe installer that you've used to install the mod, click "Next" and then "Remove".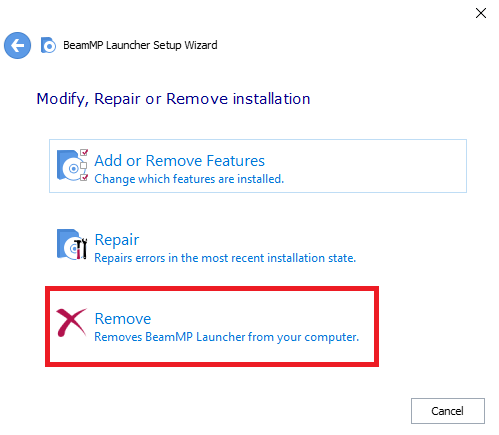 Then follow the on-screen steps. After you've uninstalled it, reinstall it as usual.
BeamNG crashes with error "0xE0000004-BNGBase::EXIT_ERR_USER_PATH_UNWRITABLE" or Singleplayer launches with MP UI:
This issue is because of the profile directory. When you launch the game click "Manage user folder" > uncheck "move user data" > click on "Reset". This will fix it.
Flattened cars that somehow still drive:
Tab to the car and press R. This will reset the car on your end. You can ask the other player to reset his car if you want.